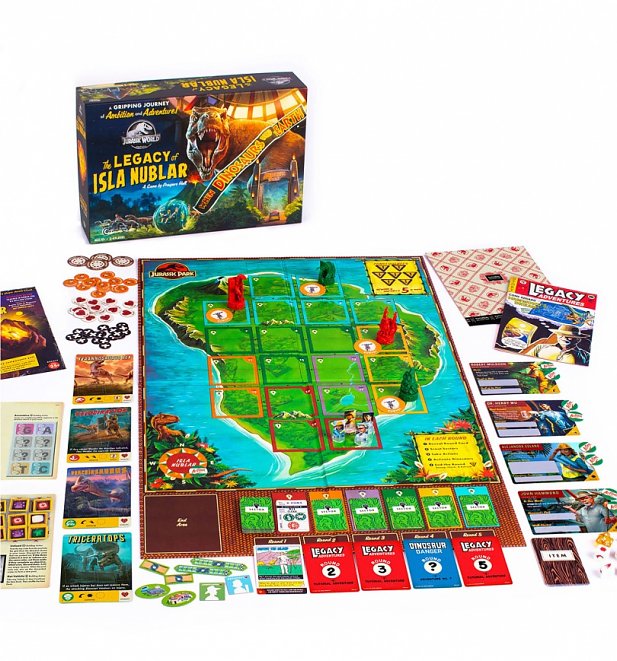 Description & More Info
Welcome to Isla Nublar!

It's time to build an attraction like no other with the Jurassic World: The Legacy of Isla Nublar board game, based on the epic sci-fi movie franchise following the journey - and the disastrous consequences - of the doomed dino wildlife park. Whether you see yourself as a scientist or a dreamer (or even a schemer!), take on the role of visionaries John Hammond and Simon Masrani, visiting scientists Dr. Alan Grant, Dr. Ellie Sattler and Dr. Ian Malcolm, sharp-minded park personnel Claire Dearing and Dr. Henry Wu, and many more, all here to shape the legacy of Isla Nublar forever.

Play through 12 exciting adventures to transform Isla Nublar into an extraordinary paradise where dinosaurs roam freely on the luscious grounds, just like they did millions of years ago. Call the shots - and choose wisely - on where to build park facilities, dinosaur enclosures and guest attractions… but don't forget to keep staff and visitors safe from the ferocious T-Rex and other mighty predators!
Jurassic World: The Legacy of Isla Nublar Game from Funko
1-4 players
Approx. 90-150 minutes playing time per adventure
Ages 10+
Large scale adventure board game inspired by the Jurassic Park franchise
Includes board, cards, figurines, tokens and full instructions
100% official Jurassic Park board game