Official Doctor Who T-Shirts, Gifts & Merch
Doctor Who, the long running British sci-fi series has been around so long that the Time Lord himself would have to travel back in time over 50 years to see the first episode which aired way back in 1963. Since then we have seen The Doctor battle all forms of alien evil such as Daleks, Cybermen and modern terrors like the Weeping Angels.

From classic Doctors like Tom Baker to the legendary David Tennant and now to our first ever female Doctor, the wonderful Jodie Whittaker, the iconic show continues to thrill through time to the present day. And with a new era about to begin courtesy of the thirteenth Doctor, what better time than to stock up on a whole host of Whovian treats.

Grab a TARDIS tee and get ready to travel through time and space or check out our brilliant range of Who inspired homewares guaranteed to transport your home to another universe. If you weren't already excited about a brand new era for Doctor Who, then our official range of merch is sure to wet your appetite and we've got all the wibbly wobbly timey wimey stuff you could possibly need. Just what the Doctor ordered....
Showing items 1 - 1 of 1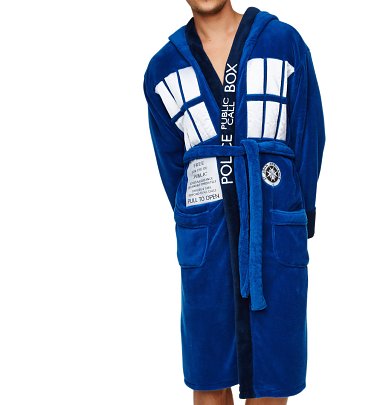 Doctor Who TARDIS Dressing Gown
$51.05