Official Barbie Merchandise - T-Shirts, Hoodies, Clothing & Gifts
More than just a classic doll, Barbie is a total cultural icon that we absolutely had to pay tribute to with our stylish collection of Barbie T-Shirts and clothing! Ruth Handler was inspired to create Barbie after noticing her daughter Barbara often giving her dolls adult roles during play, completely different to the baby and toddler dolls that were prevalent at the time, Since her 1959 debut, Barbie has undergone countless transformations and fashion moments through the decades to reflect the times (like her eyes facing forward instead of sideways as a result of the feminist movement!). With an incredible career history, from astronaut to doctor to pilot, the philosophy of Barbie has always been that through this doll, little girls can be whoever they want to be.

We're paying homage to the world's favourite doll with official Barbie clothing and accessories including Barbie bags. Featuring classic designs from the '80s and '90s, the collection is a true trip down memory lane! Our Barbie merchandise is the perfect way to show your Barbie love loud and proud and bring back some fuzzy feelings of nostalgia.
Showing items 1 - 1 of 1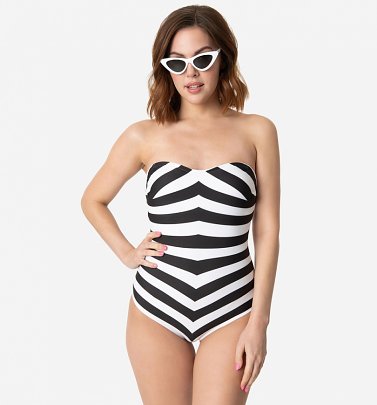 Barbie Retro Black and White Chevron Swimsuit from Unique Vintage
$107.99