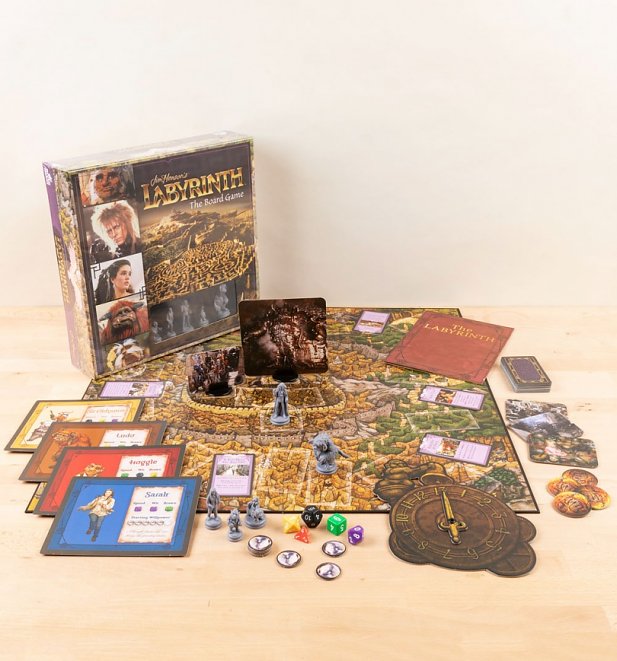 Description & More Info
You have thirteen hours in which to solve the labyrinth, before your baby brother becomes one of us... forever!

Can you defeat the Labyrinth or will Jareth turn Toby into a goblin babe? You have 13 hours to find out with this epic board game base on the classic Labyrinth movie by Jim Henson. Each player takes on the role of either Sarah, Hoggle, Ludo, or Didymus and much like the film, players have '13 hours' to navigate Jareth's labyrinth to rescue baby Toby. The gameplay is designed to be fast-paced, family friendly, and open for up to four players.

The game consists of two distinct stages, one where the group must adventure through the labyrinth trying to find the goblin city whilst keeping their willpower as high as possible (nobody wants to fall into the oubliette!), and a second action packed stage where the players must fight their way into Jareth's castle where Sarah must say the magical words that will release her brother.

Beautifully illustrated and crafted with an amazing attention to detail, this magical buy is an essential collectors piece for Labyrinth fans and the perfect way to introduce Henson's masterpiece to a new generation!
Jim Henson's Labyrinth: The Board Game
Game includes five beautifully crafted figures capturing the likeness of the major characters from the movie, a 2' x 2' game board, 32 Labyrinth cards, over 30 game tokens, 6 polyhedral dice, 6 reference cards, 4 character sheets, 4 Ability cards, 4 Weakness cards, 4 card stand-ups, a Goblin Clock and Clock hand, and a rules booklet
Designed for up to four players aged 6 and up
Fast-playing family game with an emphasis on simple game play and evocative art
UK edition
100% official merchandise
Reviews
Verified Purchase
Nikki - 22nd Jun 2020
Review: Great item for fan. Would recommend
Verified Purchase
Lynne - 3rd Jun 2020
Review: We haven't played it yet but it looks very good! Waiting for covid to end so that our daughter and son-in-lae can visit and play it with us!
Verified Purchase
Rachel - 31st May 2020
Review: It's a brilliant game, a bit complicated first time but can't wait to play it again without my head in the instructions!
View more Reviews