Posts > Tag: Ghostbusters
September 18th 2023
Who's ready to get spooky?!
Bringing you some real treats - and absolutely no tricks - our latest collection of spine-chillingly spooktacular bags, wallets and accessories from Loungefly are totally here to take flight with you on your broomstick this Halloween!
Featuring some of the creepiest, most haunting and all-out terrifyingly cool Loungefly bags ever, our latest Halloween Loungefly bags have escaped the crypt of cool and are ready to be chased down and taken back to your very own dungeons.
To keep your spooky style as sharp as a razer, we've picked out some of our top and best-loved Loungefly styles for you to rock this Halloween and beyond!
Loungefly Halloween Michael Myers Cosplay Mini Backpack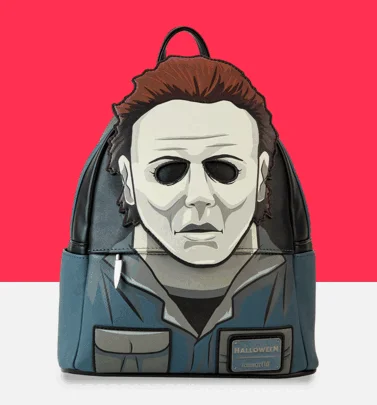 Perfect for fans who love their nightmares brought to life! Featuring his creepy face that glows in the dark for added impact that'll send your heartbeat racing, chase down our Loungefly Halloween Michael Myers Backpack that's already a total hit this Halloween!